Simmone Taitt of Poppy Seed Health on Restructuring Pregnancy and Postpartum Care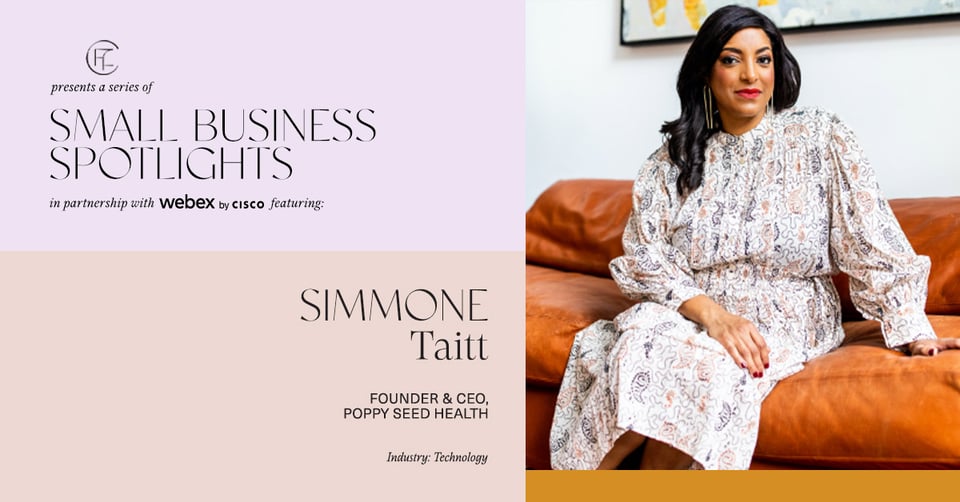 Journalist. Public speaker. Television host. Author. Founder. For Simmone Taite, the list goes on and on. It was after her own experience with pregnancy loss and finding a total lack of emotional and mental health support that Taitt founded Poppy Seed Health. Since 2016, she has built the community of support she wished she had found following her miscarriage. Above all, Simmone's mission is to make sure Poppy Seed Health members never feel alone in the moments they need to feel seen, heard, and supported the most.

Every founder knows how tough it can be to get a business moving, but there is a whole other set of challenges when your business is built to change culture. Discussing that change, Simmone says Poppy Seed Health is on a mission "to restructure pregnancy and postpartum care with an emphasis on emotional and mental health support, and to build something new that puts accessibility, equity, and radical empathy at the center of the experience."
| | |
| --- | --- |
| As Poppy Seed Health has grown and thrived, Simmone has created relationships with big-name brands like Ritual and Meta, and many companies are moving toward offering Poppy Seed Health in their employee benefits packages. | As the cultural perspective around pregnancy and pregnancy loss has shifted toward more openness and empathy, Simmone and Poppy Seed Health are committed to making sure the conversation continues to progress, and ensuring that everyone has somewhere to turn when they need help. |
Q&A
Question: What has been the hardest aspect of your journey with Poppy Seed Health?
Answer:
Being a solo founder is never easy. Making sure I show up for my team and for the mission is what drives me, but it's also one of the most challenging parts of this journey. I'm grateful to have a close community of female founders I rely on to act as my cheerleaders and advocates when times are difficult.
Question: Where have you seen the biggest shifts in user behavior?
Answer:
We've seen an increase in members seeking support for pregnancy loss and grief. We attribute this to people becoming less ashamed about a very stigmatized topic and instead of going it alone they are coming to Poppy where we can hold space for their feelings and healing.
Question: What advice would you give to your younger self as she sets out on the founder's path?
Answer:
Surround yourself with kind and genuine people and you'll never be alone.
in partnership with