Marika Frumes of mysha on The Power of Mommy Pods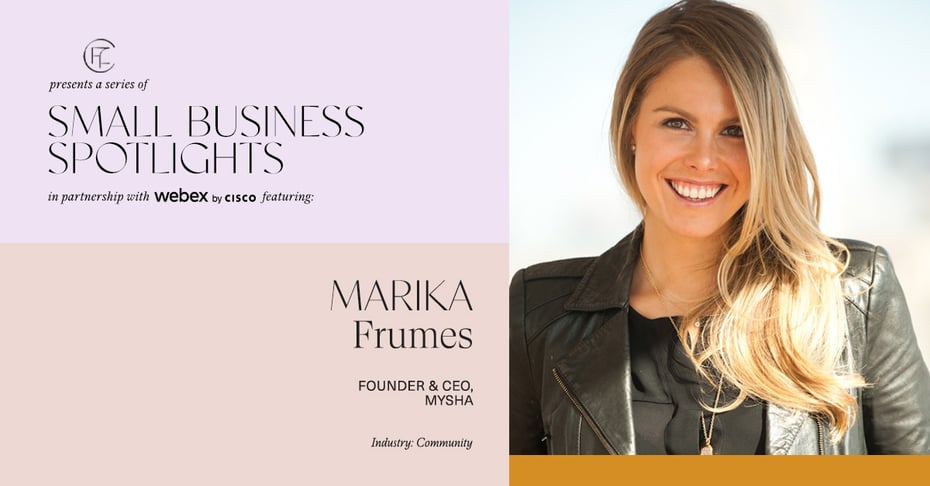 When the community you need doesn't exist, you build it yourself. That's exactly what Marika Frumes did when she founded mysha, a total reimagination of community surrounding modern pregnancy and motherhood. As Marika navigated her own pregnancy, she felt isolated and overwhelmed without a network of women who could relate to exactly what she was going through. Speaking about her search for community, Marika says, "I went to educational prenatal classes and pregnancy geared workouts but after the class, everyone would leave without having connected. When I found myself Googling 'down to Earth pregnant influencer' at 1:00am, I knew what I was looking for didn't exist."

So Marika set out to build the community she was looking for by using WhatsApp to connect a group of 20 women from her extended network in the first mysha pod.
| | |
| --- | --- |
| The exchange of information and support took off and quickly expanded as friendships formed, deepened, and evolved. Now, mysha offers expecting moms a wealth of resources and then connects them to their own pod of 19 other soon-to-be moms during the final month of their pregnancy. | Marika and her team get to know every single member so the connections can be curated as effectively as possible. By introducing women to others going through similar experiences in the same area, Marika and mysha are sending a simple but powerfully important message: you're not alone. |
Q&A
Question: How is sustainability tied into the mysha mission?
Answer:
At every mysha event, we invite our members to bring any clothing or gear that they've grown out of, to pass down to the new moms who've joined the community. It's a beautiful moment of sharing and a gift to the planet. Sharing and sustainability is a huge community value. #winwin
Question: What do you have planned for mysha that's getting you excited right now?
Answer:
Now that people are back to IRL hangs, I am most excited about activating mysha locally. We've created a new membership tier – local – where we connect moms in specific neighborhoods and curate meaningful experiences where their connections can flourish. It's taking the virtual community and expanding it IRL. So far we've had tremendous success in NYC / BK, LA, and Miami.
Question: What piece of advice have you held onto as a North Star?
Answer:
Make sure you are having fun! If the business has gotten too stressful, you need to get back to doing the things you most enjoy to realign the situation.
in partnership with