Rachel Krupa of The Goods Mart on Making an Impact on Our Food System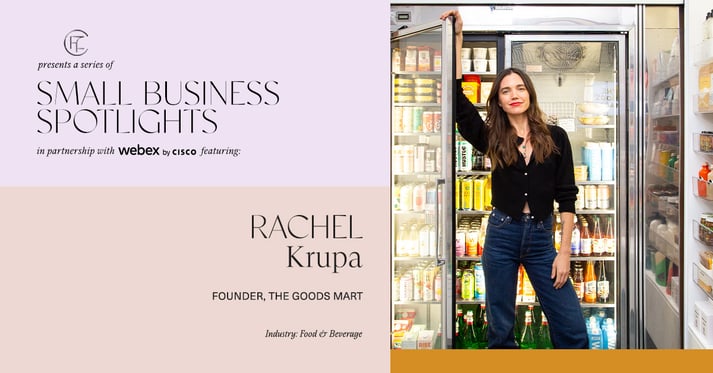 What if convenience stores were more than just convenient? What if they were full of healthy options, places where you could shop based on value and values? Those were the questions Rachel Krupa set out to answer when she founded The Goods Mart in 2018. Rooted in strong PR instincts and a healthy dose of childhood nostalgia for the gas station mini-mart, Rachel designed The Goods Mart to provide convenience while meeting the product expectations of the modern consumer.

Rachel's journey to opening The Goods Mart started while working with mission-driven food and wellness clients at her PR agency, Krupa Consulting. Speaking about what sparked the idea, she says, "We started to attract better-for-you CPG brands, and after speaking with founders, I learned they didn't have a strategy for convenience stores. And as a convenience store lover, I knew these brands were not showing up in traditional convenience stores. So I took on the challenge to create a store that was small in format, but big in mission."
| | |
| --- | --- |
| In addition to offering healthy products at gas station prices, a significant part of the mission is to put the spotlight on diverse founders who are making positive changes in our food system. As a female founder herself, Rachel knows just how far a little support can go. | She is committed to lifting up the tastemakers and the changemakers to maximize their impact in every community they touch. |
Q&A
Question: What is the primary mission for each of your businesses?
Answer:
For Krupa Consulting, it's to amplify the voices, profiles, and brands that are seeking to make an impact on our food system, for our health and our Mother Earth. With The Goods Mart, our mission is to create a store that is filled with all the best better-for-you brands from diverse founders – a place where customers can shop their values. (And discover the tastiest snacks!)
Question: Where have you seen the biggest shifts in consumer behavior?
Answer:
I've loved seeing the continued push for brand transparency and authenticity. When individuals are building brands now, they're not only thinking about the bottom line, but also how they will impact others and the environment.
Question: What's been the North Star that's kept you focused through the process of building Krupa Consulting and The Goods Mart?
Answer:
You can never do anything wrong. Anything you do can be right, because the traditional "wrong" is actually a learning opportunity. If you keep that outlook, you are constantly improving!
in partnership with