Chloe Homan of Curlfriend Collective on Failing Forward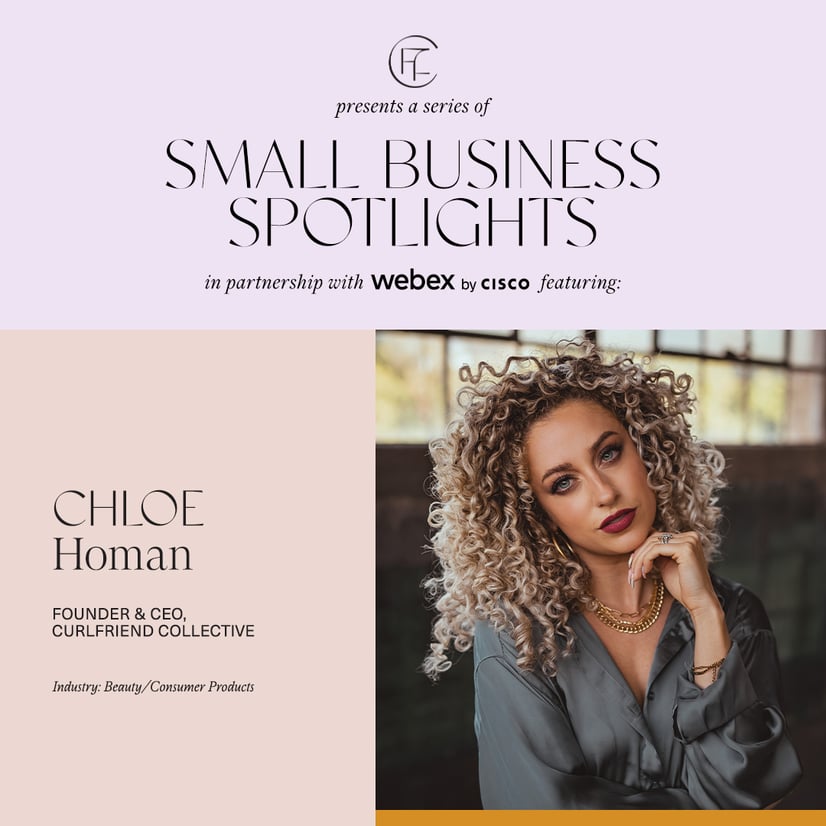 Chloe Homan is living proof of the amazing things that can happen when you take a deep breath and dive headfirst into your passions. For Chloe, that means creating a voice and building a home for curly-haired women from all backgrounds. But her journey to creating a curly-haired community had some twists and turns of its own. After going to school for graphic design and advertising, Chloe was working a normal corporate job while doing some social media work on the side.
But just a year after starting her own social media advertising business (@frizzandfrillz) as a side hustle, she left her corporate gig to pursue entrepreneurship full-time. She knew it would be a challenge, but stayed true to her North Star: "Fail forward and keep learning from your mistakes." Now, Chloe has moved into the product space as Founder & CEO of her luxury hair accessory line, Curlfriend Collective.
| | |
| --- | --- |
| With Curlfriend Collective, Chloe is on a mission to help people feel more comfortable in their own skin (and hair). Instead of celebrating who the world says we should be, Chloe is here to celebrate curly-haired women exactly as they are, giving them a place to feel seen, heard, and inspired. Her own inspiration comes from something every entrepreneur knows: each new day comes with a new challenge. | For Chloe, it's all about maintaining a learner's perspective and a growth mindset. Discussing what she would tell her younger self, she says, "I would tell her that no one starts out knowing what they're doing. We're all faking it to the next level, learning as we go. So don't be afraid to take the leap into a new opportunity. That's the only way you'll grow." |
Q&A
Question: What has been the biggest challenge with Curlfriend Collective so far?
Answer:
Knowing where to start! Other than my content creation business, I have no other business background. I started from scratch with myself, my husband, and a part-time assistant figuring out how to find our suppliers, manufacturers, set up our website, marketing, shipping, and everything in between.
Question: How is sustainability tied into your business and products?
Answer:
We always use compostable packaging everywhere we can when shipping to our customers. Our products are also made from mulberry silk, rather than polyester satin, because it's a natural material that will eventually decompose unlike polyester. We're focused on producing the fewest plastics and making the smallest environmental impact as we can as a company.


Question: What do you see as the key driver of consumer behavior over the next few years?
Answer:
I see Gen Z and Millenials focusing more on capsule wardrobes, thrifting, finding investment pieces, and doing their best to add less waste in the fashion industry.
in partnership with